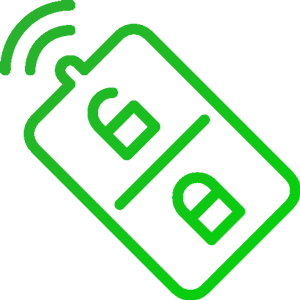 Key Fob Program
Car Key Maker
Residential Locksmith Services in Miami
Your home is more than just a structure; it's a haven, a space where memories are created, and where you seek solace and security. Understanding the sanctity and importance of this space, our Residential Locksmith Services aim to ensure that your home remains the safe sanctuary it's meant to be, free from potential security breaches.
What's Included in Our Service
Lock Installation & Replacement:
Whether you're looking for traditional lock mechanisms or leaning towards the latest electronic security systems, our team has the expertise to guide and install the perfect fit for your home's safety.
Emergency Lockout Assistance:
Unexpected lockouts can be distressing. With our swift emergency services, you'll never be left out in the cold. We ensure that you regain access to your home without unnecessary delays, minimizing the inconvenience.
Re-keying Services:
Whether it's about adapting to change or enhancing security, re-keying is essential. If you've lost a key or just want to ensure old ones are obsolete, our efficient re-keying services will give you peace of mind, knowing that only authorized individuals have access.
Home Security Assessment:
Safety is more than just door locks. Our thorough home security assessment identifies weak points that might be overlooked. From front doors to back alleys, we evaluate every nook, providing you with a comprehensive report and actionable recommendations to fortify your residence.
Window & Sliding Door Locks:
Homes have multiple entry points, and each needs to be secure. Windows and sliding doors, often seen as vulnerabilities, are given special attention. We provide robust solutions to ensure these access points are as secure as your front door.
Repair & Maintenance:
Locks and security systems, like any other mechanism, wear out over time. Regular maintenance can prolong their life, ensuring they function optimally when needed. Our team offers a full spectrum of repair and maintenance services, ensuring longevity and performance for your home's security apparatus.
Duplicate Key Creation:
Having spare keys is not only convenient but can be a lifesaver in many situations. We create precise duplicates of your keys, ensuring you always have a backup when needed.
Childproofing Solutions:
For homes with young children, safety extends beyond external threats. We offer specialized childproofing services for locks and doors, ensuring the young ones are safe from potential in-home hazards.
Established Trust:
Our reputation in Miami is built on consistent, dependable service. When you choose us, you're opting for reliability.
In-depth Knowledge:
We don't just know locks; we understand the changing landscape of home security. This knowledge ensures we're always ahead, providing you with the best solutions.
Client-Centric Approach:
Understanding the unique needs and concerns of homeowners is paramount. Our team is trained to cater to your specific requirements with utmost precision.
Modern Tools & Techniques:
We leverage the latest tools and industry methods to ensure you receive top-tier service every time.
Safety First:
Your safety is our top priority. With our Residential Locksmith Services, you're ensuring your home's security is in the hands of experts who genuinely care.
✓ Certified, Assured And Bonded
✓ Specialize In All Cars Models
✓ Highly Skilled And Experienced Technicians
✓ Your Trusted Local Locksmith
Proudly Serving Miami Florida
We serve all of Miami FL surrounding areas: